Step up, darlings, as our beloved cobbles of Coronation Street, where we've laughed, cried, and caused a right kerfuffle, graciously hosted a starry day out for its devoted fans. Stealing the show was our fiery Sair Khan, known to us as Alya Nazir – the legal eagle and lion-hearted lass of Speed Daal.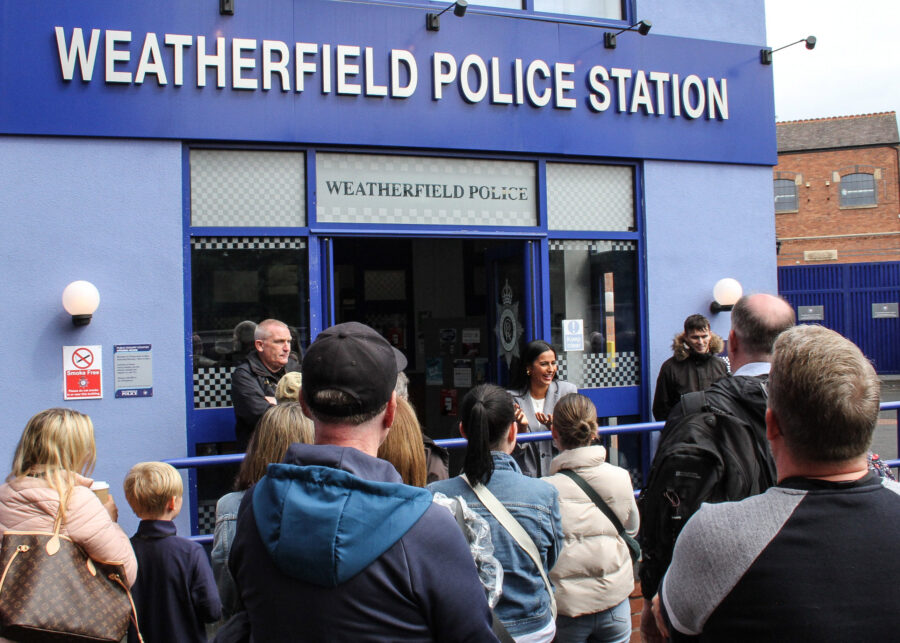 Our Coronation Street Experience tour guide enthusiastically set the scene, exclaiming: "Your star today, she's always quite busy at the moment. First of all, she is always looking after her gran, she also works at the solicitors around the corner, and every so often she will work at Speed Daal as well. And more recently she survived a Speed Daal van exploding while she was inside. She survived all that so she could meet you today [crowd laughs]. Ladies and gents, I present to you Sair Khan who plays, of course, Alya Nazir!"
The stones beneath our feet were brimming with decades of drama.
Welcoming us like long-lost friends to her 'gaff', Sair won the guests over with her charm. Despite Alya's rollercoaster ride in Weatherfield, Sair's chatty, lively spirit made our day a right hoot. As she recounted Alya's story, from the car crashes to surviving a bomb blast, and dodging a psycho hubby, we were reminded of the intricate tapestry that makes Coronation Street the crown jewel of British telly.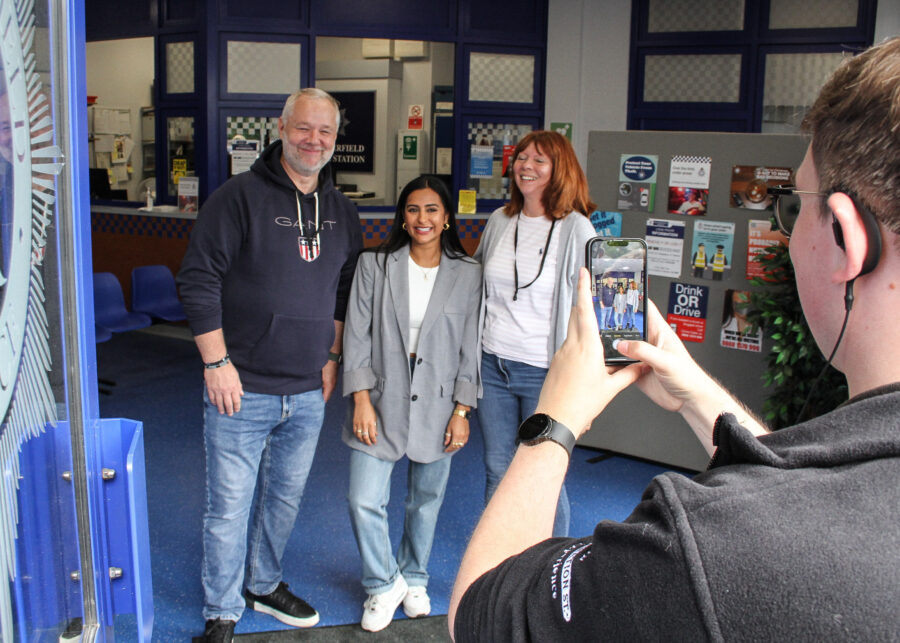 Our Alya, or rather Sair, took the spotlight and greeted us: "Hi everyone, oh wow, so many of you! Welcome to Weatherfield! This is where I live [crowd laughs]. This is the local police station that I have visited quite a few times. You're in for quite a treat today, the tour is amazing and you get to see so many special parts of our show, where we work, where we live, make sure you get as many pictures as you can. Get in Sally's back garden if you can, it's quite an iconic back garden. And of course, The Rovers!"
"We've got the new set as well, the Weatherfield precinct, that I've only literally just seen, because I haven't worked on that set yet."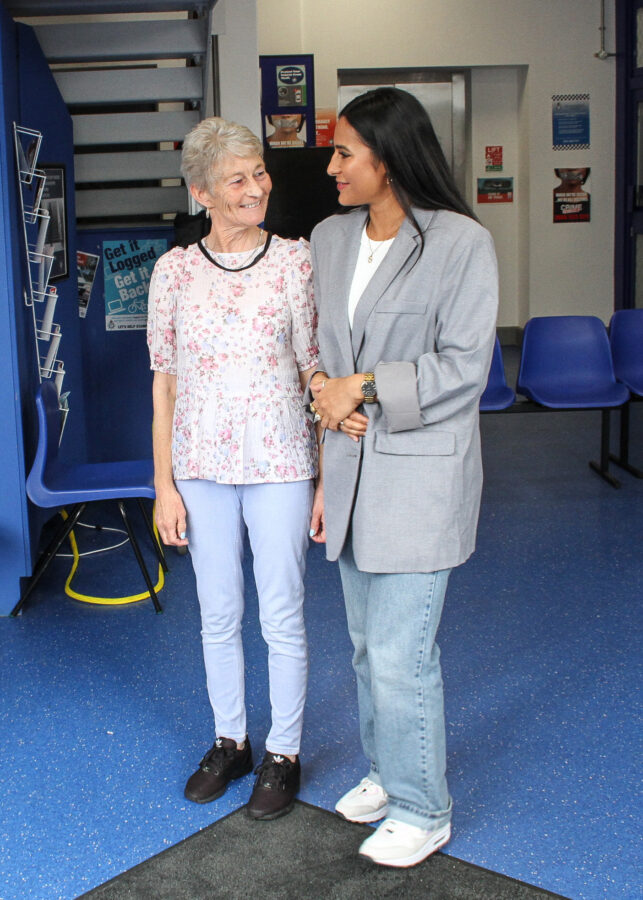 "I have been here for almost 10 years! Which is crazy. And a lot has happened in that time, including recently a car crash, there was a bomb, that was my second car crash actually… Do you remember when I worked in Underworld? And Steve was driving the van, and went over the hill? Minor head injury on that one. Erm and… Geoff? Geoff! When Geoff tried to kill me [crowd laughs]. I completely forgot about that. I love this show! And I'm glad that you guys love it too. It's going to be so nice to meet you all. Come in and have a picture and say hello! If you have any questions, and I will answer them! [crowd applauds]."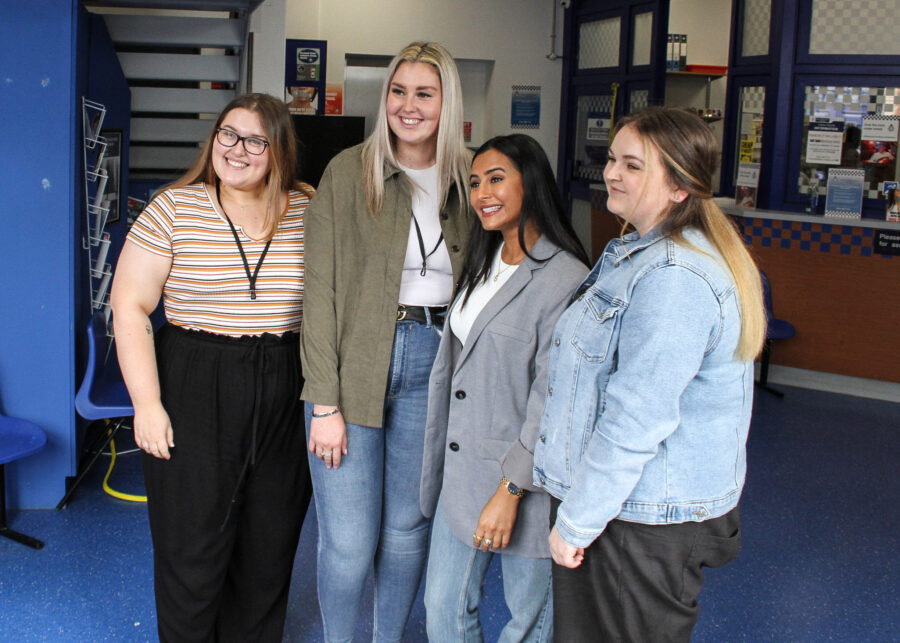 The Coronation Street Experience isn't just a nosey around Weatherfield's famous haunts. It is a chance to step into the shoes of the characters we've come to know and love. To appreciate the efforts of talents like Sair, who inject soul into their roles, turning Weatherfield from a mere soap set into a world we hold dear.
It's hard to put into words the thrill of this Coronation Street Experience. With Sair's stirring narration, we felt like we were stepping into a beloved scrapbook of memories. A heartfelt nod to the core of Coronation Street – resilience, love, and the solid bond of community. It was, without a doubt, a day to go down in the history books for any Corrie fan.
So, Sair Khan, take a well-earned curtsy, love. Your presence turned an already cracking day into an extraordinary voyage straight into the heart of Coronation Street.
After you've relished the thrill of mingling with celebrities, prepare to embark on a one-of-a-kind journey behind the scenes. The immersive Coronation Street tour will transport you to the vibrant heart of Coronation Street, unravelling hidden gems and providing a peek into the iconic replica sets, like the legendary Rovers Return and the charming Roy's Rolls.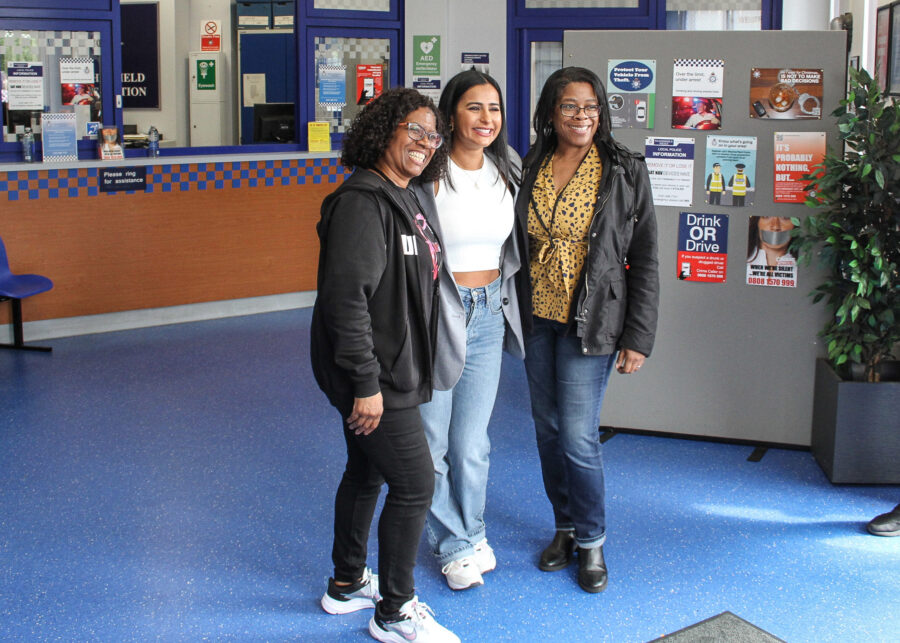 The Coronation Street Exhibition is a cornucopia of delights, teeming with costumes and props that echo six decades of riveting drama. Deirdre Barlow's iconic glasses are among the exhibits, a warm homage to her memory. And for those desiring a nostalgic trip, we feature a cinema screening the most memorable Corrie moments on a grand screen.
If you're buzzing with anticipation, the comprehensive Coronation Street Experience is available most weekends when the set is free from filming. The exhibition-only ticket is reasonably priced starting at just £7.50 per person. But if we're being candid, the full experience is what you're truly after, isn't it? For a combined tour and exhibition ticket, it's only £35.00 per person — a steal of a deal!
Our Star Tours are priced at £45 for adults and £42.50 for children. Book your tickets before they sell out faster than Betty's hotpot!