Coronation Street's highly anticipated wedding episode did not disappoint as Gemma Winter made her unforgettable entrance in a vibrant orange wedding dress. The outrageous gown, an incredible two meters wide with a seven-meter-long train illuminated by fairy lights, was the brilliant creation of drag queen and fashion designer Liquorice Black.
Known for his extravagant creations on RuPaul's Drag Race, Liquorice Black collaborated with Coronation Street's Head of Costume, Alex Hatzar, and actress Dolly Rose Campbell, who portrays Gemma Winter, to bring the dress of Gemma's dreams to life.
Following its captivating appearance on Coronation Street's wedding episode, the iconic orange wedding gown designed by Liquorice Black has found a new home at the Coronation Street Exhibition. Fans of the show and fashion enthusiasts alike can now marvel at this breath-taking creation up close and personal.
Behind the scenes, Liquorice Black, also known as John Roberts, worked tirelessly at his Manchester studio to craft this larger-than-life dress. Interestingly, a shorter version had to be created for close-up scenes, as the sheer size of the gown prevented Gemma's co-stars from getting near enough for filming.
When initially approached, Liquorice hesitated, unsure if this type of dress was his forte. However, after a direct conversation with Dolly Rose Campbell and the head of costume, his reservations melted away, convinced that this venture would be an enjoyable and rewarding endeavour.
Prior to designing the dress, Liquorice familiarised himself with Gemma's character by watching clips on YouTube and delving into her distinctive and eccentric fashion sense. The collaborative effort between Liquorice, Alex, and Dolly revolved around exploring various outlandish wedding dress ideas. Ultimately, they all agreed that the bold and vibrant colour of orange would perfectly embody Gemma's personality and complement her partner Chesney.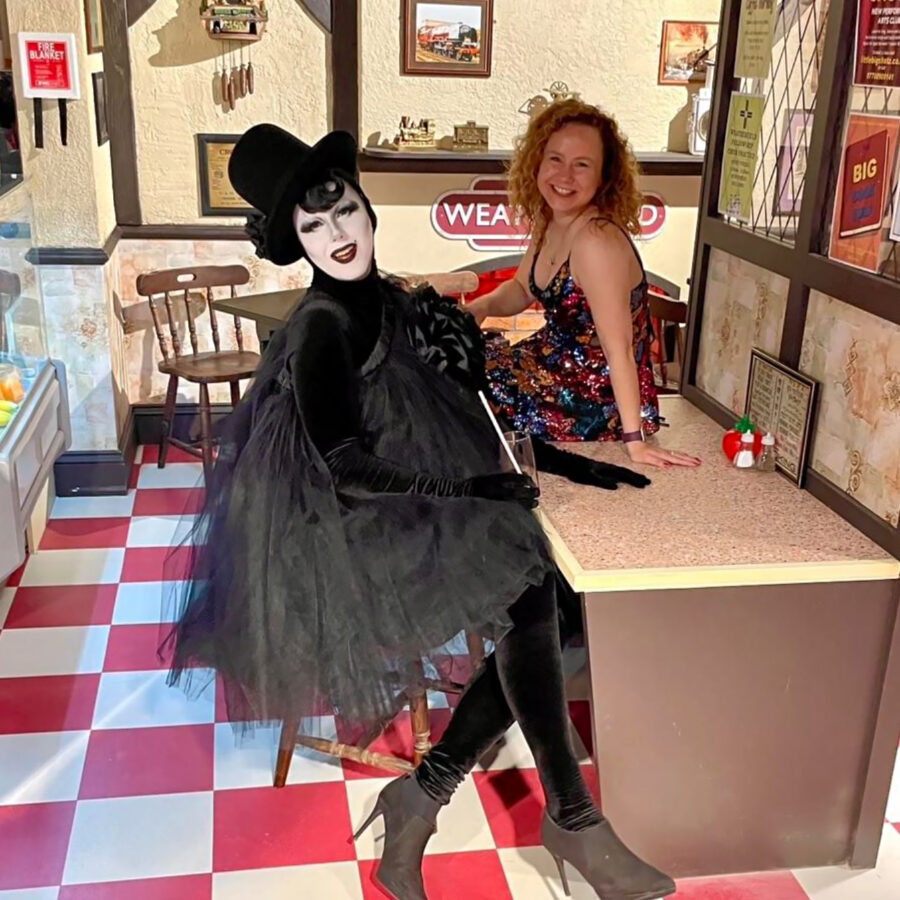 Orange is the new white!
Considering the practicality of the dress for filming, Liquorice took great care to ensure both comfort and functionality. With long hours of wear in mind, he designed two dresses: a shorter one for close-ups and a longer one for other shots. Liquorice and his sister, Louise Roberts, were present on the filming day, not only to assist with dressing and moving the dress but also to handle any unforeseen mishaps that might require immediate fixes.
Working closely with Dolly Rose Campbell, Liquorice developed a deep admiration for her imaginative flair, describing her as a glorified drag queen with an exuberant personality. The process of creating Gemma's dress was reminiscent of Liquorice's work on RuPaul's Drag Race, with Dolly's desire for excess occasionally tempered by practical considerations.
The scale of the dress posed a considerable challenge for Liquorice, as it required multiple trips to fabric stores for more material. The gown devoured fabric at an astonishing rate, necessitating the addition of extra underskirts to achieve the desired volume. The underskirt alone consists of hundreds of meters of tulle. Adding to the intricacy, Liquorice's sister painstakingly sewed in 125 meters of fairy lights, while rhinestones were meticulously applied by hand.
Although Liquorice primarily works independently, his sister often lends a hand when assistance is needed. For this project, she skilfully sewed rhinestones and helped with the intricate task of attaching the fairy lights. These minute details required a significant investment of time and precision.
As a proud resident of Manchester, Liquorice expressed immense gratitude for the opportunity to have contributed to Coronation Street's legacy. Being involved in the creation of a wedding dress for this iconic show, a cherished institution in the UK, held great significance for him. With eager anticipation, Liquorice Black awaited the moment his creation would grace the screens, ready to impress viewers with its sheer brilliance and artistry. And that moment has finally arrived! Liquorice's extraordinary dress has made its dazzling debut on Coronation Street, leaving viewers in awe of its beauty and craftsmanship.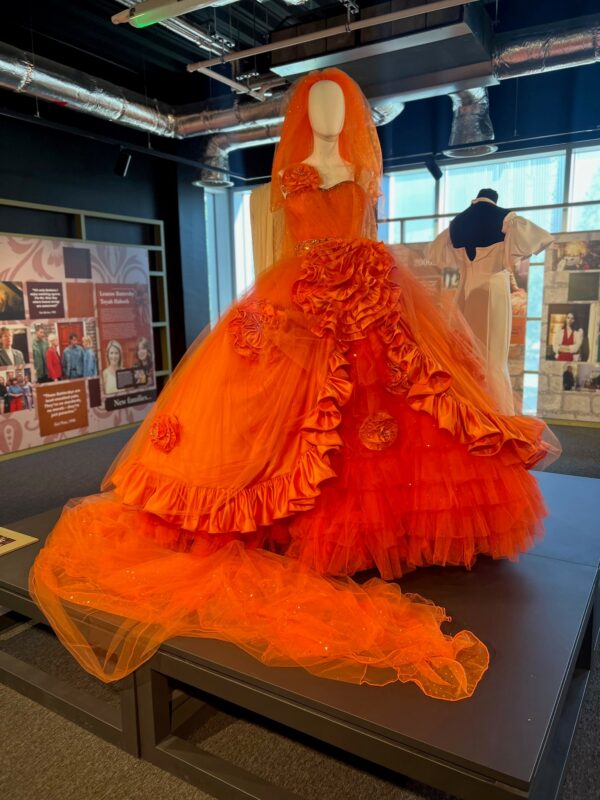 The Coronation Street Exhibition, a must-visit destination for avid viewers and visitors to Manchester, showcases the rich history and behind-the-scenes magic of the long-running soap opera. And now, prominently displayed within the exhibition, is Gemma Winter's extraordinary orange wedding dress.
So, whether you're a die-hard Coronation Street fan or simply appreciate extraordinary fashion, make sure to visit the Coronation Street Exhibition and witness the magnificence of Gemma Winter's orange wedding dress first-hand. It's a chance to be immersed in the world of Britain's beloved soap opera and witness the brilliance of Liquorice Black's design up close.